Introducing Summarify 2.0: Unveiling a New Era of Effortless Productivity!
Explore Summarify 2.0 - History, Time Saved, Referrals, Sharing, iCloud Syncing, and Enhanced Settings for ultimate productivity and knowledge sharing.
August 14, 2023
AUCKLAND, NEW ZEALAND - Get ready to elevate your productivity to unprecedented heights as we proudly unveil Summarify 2.0 - the most exhilarating update to our revolutionary app yet! We've been hard at work, listening to your feedback, and are thrilled to introduce an array of groundbreaking features that will transform the way you absorb information and save valuable time.
🔍 Unlock Your History: Reliving the Magic of Summaries
We understand that some summaries are just too good to forget. With the all-new History feature, you can now revisit the treasure trove of your past summaries with ease. Every insight, every key point, and every "aha" moment is right at your fingertips, waiting to spark your memory and inspire your journey of knowledge. Simply put, your intellectual history is now stored in the palm of your hand.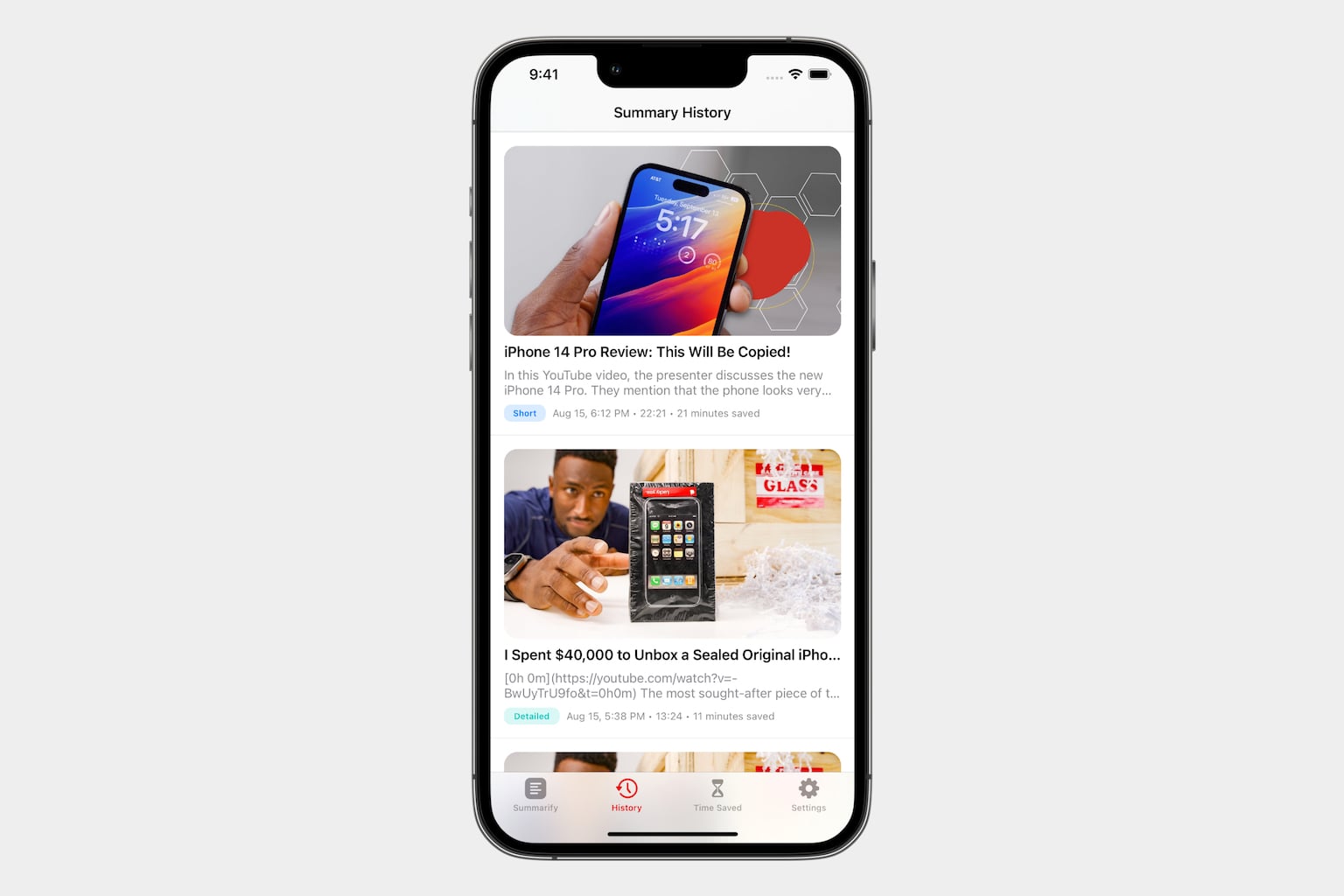 ⏰ Time Saved: A New Dimension of Achievement
Quantifying your accomplishments has never been so gratifying! With Summarify 2.0, you can track the cumulative time you've saved by harnessing the power of summaries. But we didn't stop there - we've also curated a collection of ingenious recommendations to help you maximize your newfound free time. Whether it's picking up a new skill, indulging in a hobby, or simply relaxing, we've got you covered.
📣 Spread the Word and Reap the Rewards
At Summarify, we believe in sharing knowledge and kindness. That's why we're thrilled to introduce the Referrals feature. Invite your friends and family to join the Summarify revolution, and both you and your referrals will be showered with complimentary summaries as a gesture of our gratitude. Sharing wisdom has never been more rewarding!
🔗 Seamless Sharing, Limitless Connections
We understand that a great summary is worth sharing. With our enhanced sharing capabilities, you can easily spread the enlightenment by sharing direct links to your summaries with friends, colleagues, or anyone seeking knowledge. And yes, you guessed it right - each shared link is an opportunity to earn more referrals!
☁️ Sync Your Wisdom with iCloud
Say goodbye to manual data transfers and hello to effortless synchronization. Summarify 2.0 brings you iCloud syncing, seamlessly merging all your summaries, saved time data, and available minutes across all your devices. Your journey towards knowledge has never been this cohesive and connected.
⚙️ Customization for a Tailored Experience
Speed and readability matter, and we've fine-tuned our settings to ensure your summaries are a delight to devour. Now, you can customize the speed and readability of your summaries, ensuring that every piece of information resonates with your preferred pace and style.
Are you ready to embark on a journey of enhanced productivity, streamlined learning, and effortless information absorption? Summarify 2.0 is your ticket to a smarter, more efficient you. Upgrade now and experience the future of knowledge at your fingertips!
Download Summarify 2.0 today and revolutionize the way you learn, grow, and share.
Stay summarized, Digital Tools Ltd
Summarify: AI for YouTube
The ultimate iOS app for effortless video summarization! With Summarify, you can quickly condense YouTube videos into concise summaries using advanced AI technology.
Get Summarify